Join Venture Café Rotterdam Virtual Book Club session!
We put a spotlight on books that touch on topics that are close to our hearts and/or support our mission to connect innovators to make things happen. Subjects will include entrepreneurship and management, but can also address societal developments or offer a relevant scientific perspective.
This week, we will speak with Tey el-Rjula and his book "The Invisible Son". Together with Anoesjka Imambaks, Venture Café' Executive Director, he will talk about his story and discovering and living your purpose.
As a kid he always asked himself, "Why was I born with a Syrian nationality? Why didn't I go to the US with my mom? Is there a curse following me?" It took 30 years to connect the dots of the experiences he went through while growing up away from his home country and family.
He discovered his purpose in the most unexpected places on earth, and during the lowest points in his life. Not in a bar or a prison, but as an Asylum Seeker in a Dutch Refugee Camp in the Netherlands. His story relates directly to 290 million children like him, and indirectly it is related to you.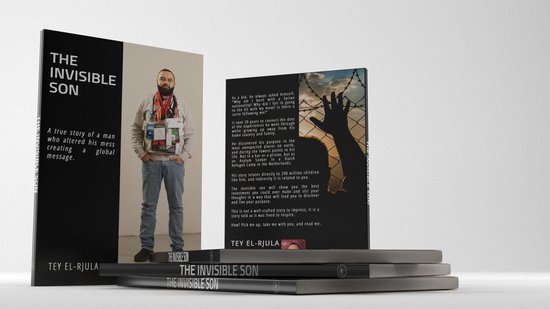 About Tey el-Rjula
Tey's story is an unlikely one. Labeled as The Invisible Man at the age of 5 to becoming one literally in the Netherlands 25 years later. He is an early adopter of Bitcoin, Pioneering the use of blockchain to break financial and identity barriers. He started a tech4good company that helps others like him.
His journey ultimately led him to the realisation of his life's mission: turning invisible people into invincible ones. Through his work as a CEO, writer, speaker, and a holder of MSc in Digital Currencies and Blockchain Technology he is determined to become a billionaire. Not in terms of money, but in positively influencing the lives of billions of people, by closing the gap on the Invisible Children.
Tey's mission is to inspire entrepreneurs, public figures, and decision makers to be the agents of change by building technologies that are inclusive to everyone, leaving no one behind, including refugees.